RULES
Before the game
First,
book
a time for Your visit.
Also it's good idea to figure out team name that You would like to see in our hall of fame.
We will explain You the rules, answer the questions You may have and take You to the room. Door closes and game begins.
During the game
Purpose of the game is solve the puzzles to find the way out during 60 minutes.
Own tools and smartphones are not allowed, all necessary tools can be found in the room.
If You run out of ideas, then You can push a button to get hint. You have 3 hints.
After the game
After the game we are glad to answer all questions You may have.
You will be given escape report with timeline of Your progress during the game. You can later compare this to Your friends.
All escaped teams will be listed on hall of fame section of our home page.
CONTACT
Phone: +372 5683 8730
e-mail:
info@safecracker.ee
LOCATION
Escape room Safecracker is in Tartu, in the basement of Rahu 15. Entrance is on the back side of the building, near Rahu street.
GPS coordinates: N58° 21.438' 26° 43.395'
Parking
Parking around Rahu 15 building is allowed for residents only. Parking on the Rahu street is free.
Public transport
From downtown take bus no. 4 to Kabeli stop. Then walk same way that the bus went until You see Selver on Your right, then turn left and cross the street. You will see a long orange house in front of You. Walk past that building and turn left. You shoule now see our logo.
GIFT CARD
Best gift is experience!
What could be better gift than hour of brainteasing with friends!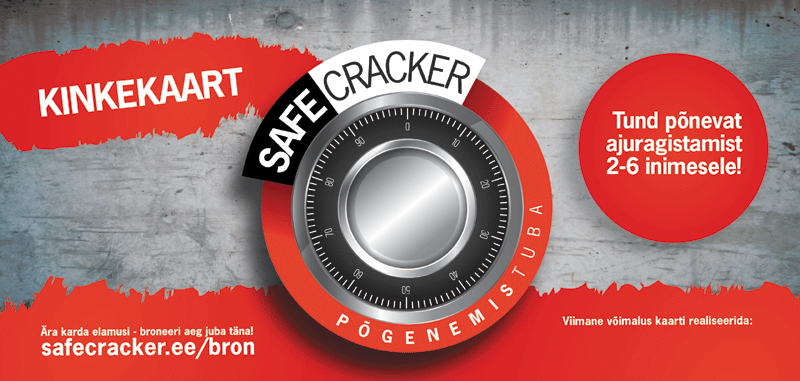 If you would like to gift such card to somebody then concatc us
info@safecracker.ee
or 5660 8058 and arrange how we can give You the gift card.